Single House in Vourvourou
Vourvourou, Chalkidiki, Greece
140m2, landscape area 800m2
Completed in April 2009 – May 2010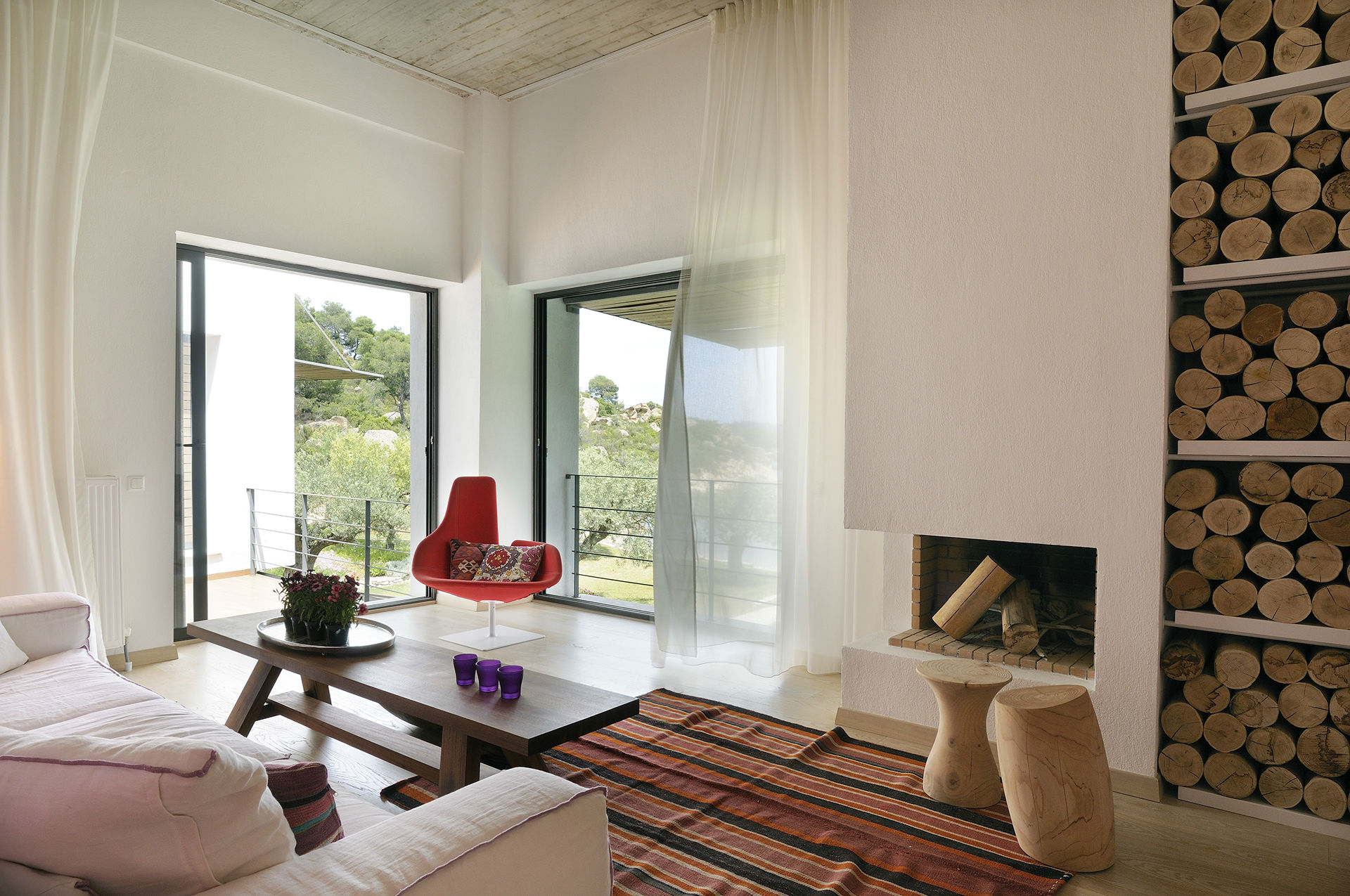 Single House in Vourvourou
Vourvourou, Chalkidiki, Greece
140m2, landscape area 800m2
Completed in April 2009 – May 2010
This is a complex of two villas are identical externally and symmetric on axis in a plot of approximately four acres in a truly unique landscape in Vourvourou in Sithonia, Chalkidiki. The complex consists of two minimalist volumes – sited to take advantage of the position and orientation of the plot, with modesty, without causing the environment of the private bay of the plot. They look like two blocks next to the stone carved from the rock salt, where huge trees, turquoise sea and reflections in them, make dreamlike.
Outside the volume of each dwelling (three storey interior), splits into two smaller, one above the other, subtly different as before outside of the residence. A large outdoor terrace sheltered by a metal construction, comes in conjunction with the full metal lined with wood shutters and home to the outdoor living and dining room, which is in direct contact with the ground floor kitchen. The ground floor is also a small guest house with wc-bath. Going upstairs there is a mezzanine that hosts half guesthouse with its own wc-bathroom. Upstairs the huge opening – "frame" of the amazing view, developed a small apartment owners with sitting area and a raised portion is the bedroom with wc-bathroom, all fully below. Interior materials used are rough cement walls, ceilings of concrete, cement mortar in the kitchen and bathrooms, wooden floors and rough or gray tiles.
Aesthetically there is any space multicultural a different mood of national character. Special structures in the kitchen and other areas of walnut, or oak rough complete the scene of life of the owners.
External interventions were small so that the dominant role to hve the same nature. Two parallel parallelepiped volumes of raw concrete perpendicular to the house and down to the sea passes and directions to it, and used as living rooms.
The goal of the owners, have a house extrovert, where flow is outside to inside and vice versa, combined with the simplicity and consistency of construction, based their philosophy on life and aesthetics, achieved in collaboration with researchers.