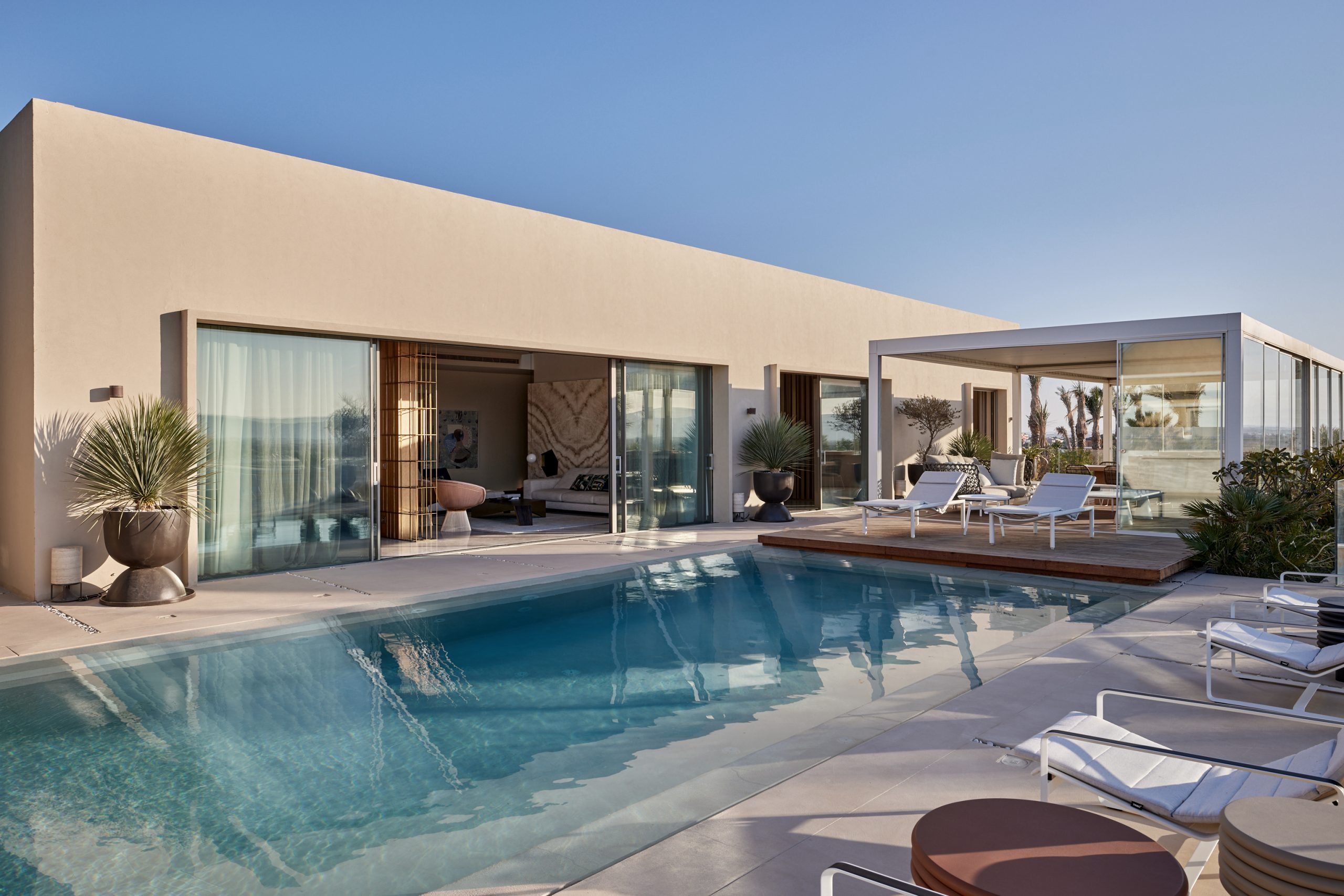 Single house
El Gouna,Egypt
interior area:220m2
exterior area:420m2
Completed in October 2022
Minas Kosmidis Architects was asked to undertake the design of a house in the coastal area of ​​El Gouna in Egypt. It is a 640 sqm project, the design of which started from scratch in 2015 and was completed in 2022.
Taking into consideration the surrounding area and its particular characteristics, the proposal attempts to harmonize with the light and serene feeling of the surrounding atmosphere. The floor plan is organized by orthonormal drawings that contrast with the curves that describe the appearance of the building. The entrance to the residence is through a corridor that leads to the living area, where the only element that separates it from the dining room is the metal structure that carries the television. The kitchen and bedrooms are arranged in the remaining zones of the residence, slightly more isolated.
The main characteristic of the project is the unclear boundaries between the internal and external parts. The outdoor area of ​​the residence is designed in such a way as to be the imaginary continuation of the building and vice versa. The pool, living area and dining area are arranged at the front of the building, with the height difference from the street allowing unobstructed views from every angle of the house.
Wood, marble and metallic details summarize the material palette and at the same time allow natural lighting to be reflected and diffused in every point of the proposal, while the earth tones interact and merge with the tones found throughout the desert expanse.
The game created between light and shadow is what transforms the project every hour of the day, highlighting every detail of the design.
Design: Minas Kosmidis Architects
Project Architect: Christos Kaligos
Construction Manager: Aris Vlachakis
Photographer: Louay Nasser