Show flat "Origins"
Dongguan – China
250m2 (indoor)
October 2015 – February 2016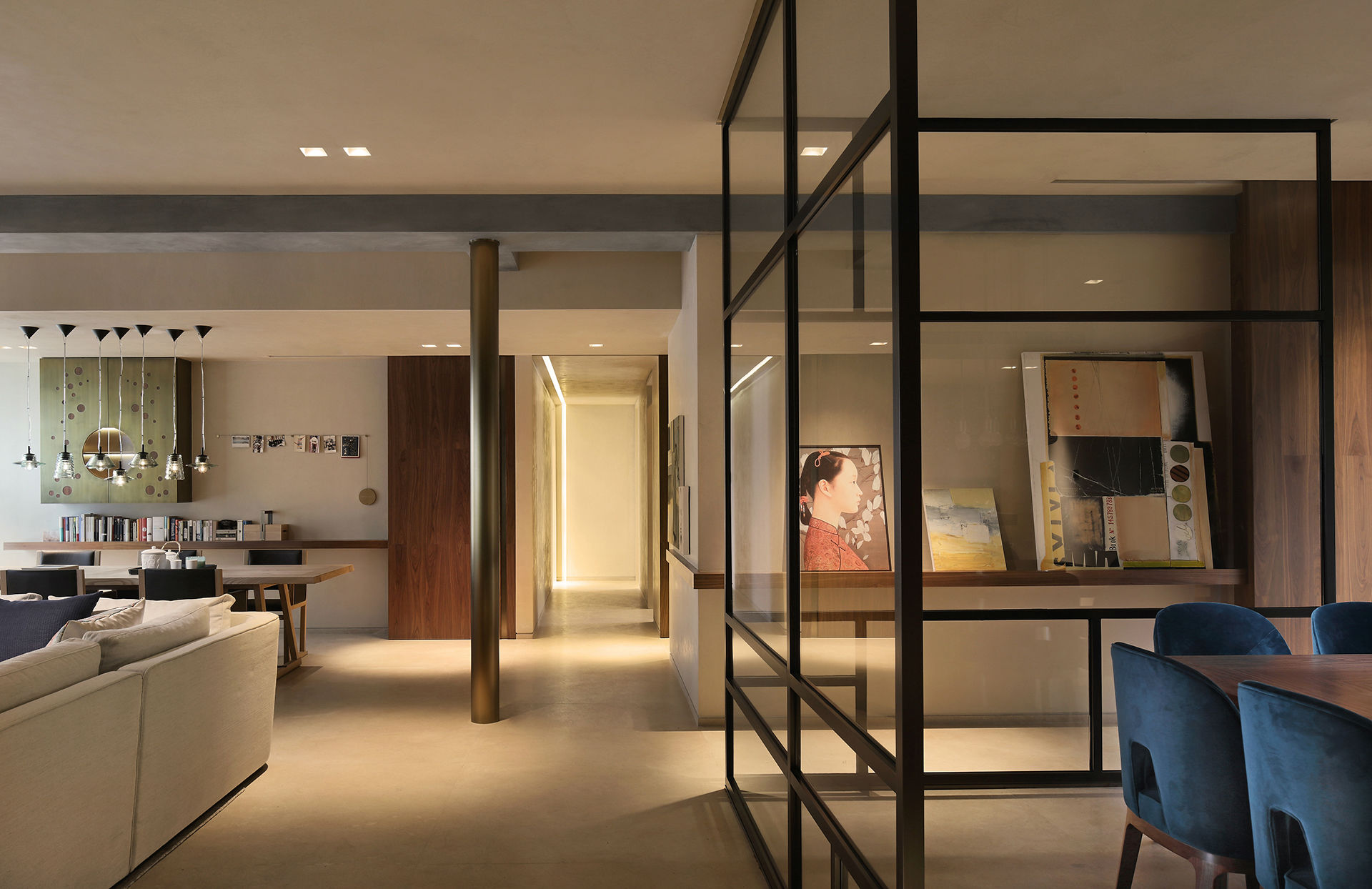 Show flat "Origins"
Dongguan – China
250m2 (indoor)
October 2015 – February 2016
This project is about the interior design of a 250 square meters apartment on the 22th floor of a newly built residential tower. The building is part of a much larger real estate residential project in the city of Dongguan, which due to its extensive development and expansion towards the city of Shenzhen in southeastern China, gives the impression of being part of Shenzhen's metropolitan area. The apartment was designed in order to serve as a show flat for the whole residential project, i.e. a newly built apartment that is decorated and furnished for prospective buyers to view.
The flat's design was the outcome of the collaboration between the architectural studios: "Minas Kosmidis [Architecture In Concept]" based in Thessaloniki, Greece and "YuQiang and Partners interior design" based in Shenzhen, China.
The studio of YuQiang and Partners has been the link between the client and the studio of Minas Kosmidis; it has passed on the knowledge of the Chinese lifestyle, and has also taken over the construction management and supervision on a daily basis. YuQiang and Partners has also been responsible for the research on all necessary furniture and materials in the Chinese market. According to the client's briefing, Minas Kosmidis architects had to design and create a new aesthetic identity that would adapt to the Chinese lifestyle, and would concern a four-member middle class Chinese family with a pro-western culture and education, but on the other hand maintaining a rather Chinese lifestyle. Consequently, the design had to include elements rather western than eastern, but at the same time having in mind the Chinese lifestyle and habits in everyday life. The apartment, in terms of functionality was designed having a spacious living room that includes not only the dining table but also a space where the family can enjoy their tea together; something that is a common Chinese habit. The tea corner and the dining table have been strategically placed in the floorplan in order to be close to the kitchen, the bar and the guest toilet. A top priority during the floorplan's organization has been the choice to keep the day activities of the family distinct in regard with the night activities, personal hygiene and bedrooms. In the night zone of the apartment have been designed two children bedrooms with separate bathrooms in each one of them, and the master bedroom with a spacious private bathroom, a walk-in closet and a home office.