Plastic Surgery Office
Andrianoupoleos 24, 55133, Thessaloniki, Greece
310m2
Completed in August 2008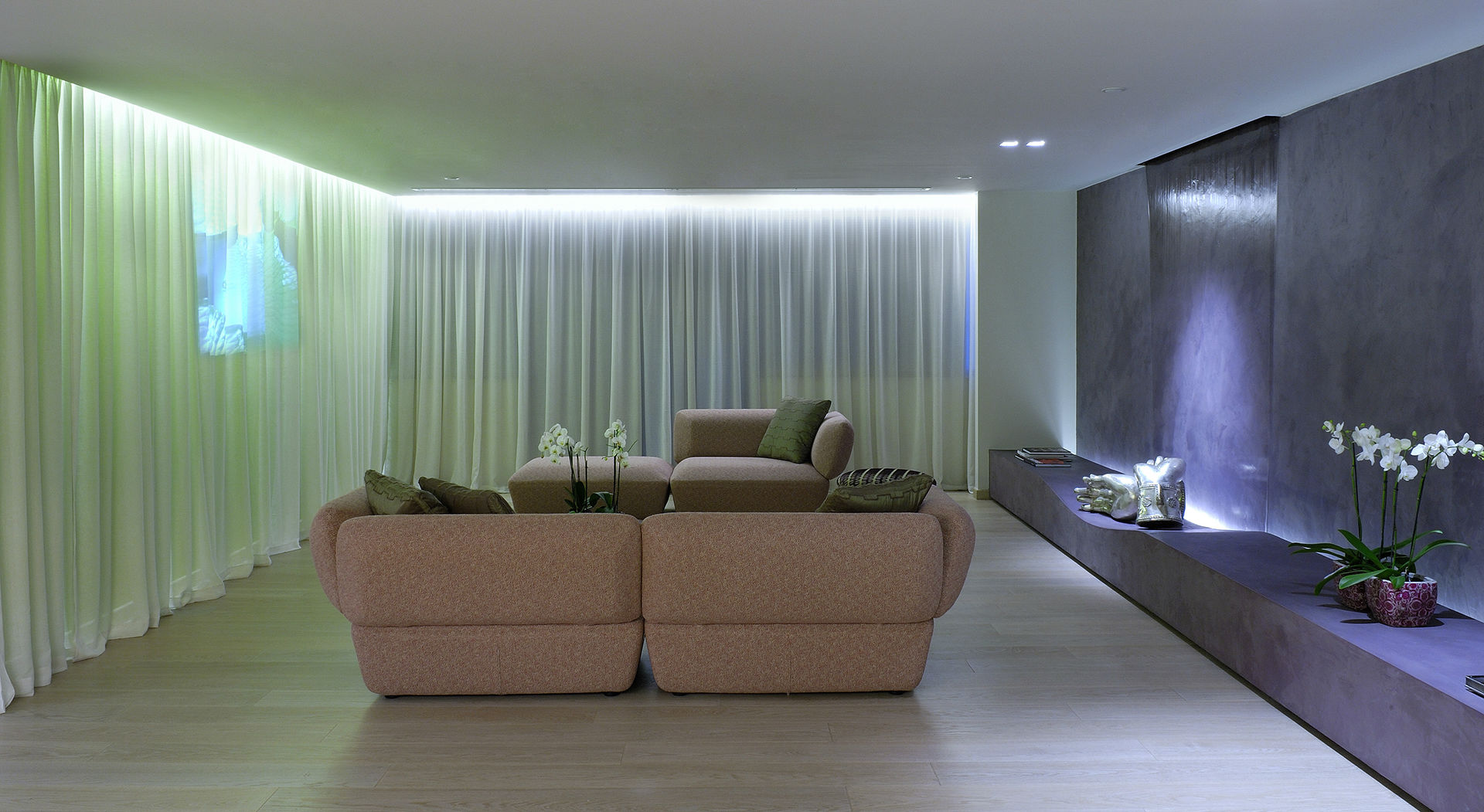 Plastic Surgery Office
Andrianoupoleos 24, 55133, Thessaloniki, Greece
310m2
Completed in August 2008
The design intention was to create a flexible space, which would satisfy the demands of a Plastic Surgery Clinic, specifically sited in order to express a flow system among internal spaces, with special emphasis on functionality, 'Zen' philosophy and aesthetics.For that reason, most of the partitions were removed from the old space.
The 310m2 Plastic Surgery Clinic is composed of the reception, the main doctor's office, the minor surgery room, laser and skin care room and auxiliary rooms for both staff and patients.
Right after the entrance, one meets the lobby and reception. An important feature of this space is the 'erosion' of the static elements and walls, followed by their replacement with elements of flow, movement and transformation, like the curtains, the running water and the symbolic graphic patterns. The flow is also found in the wide oak floor boards whose continuity meets the marble joints of the reception surface, implying that it rises from the floor, before it merges with the graphic patterned mirror wall.
The Clinic core consist of the minor surgery room, surrounded by the rest of the spaces. It is a large purple 'Box', also coated with graphic patterns, in purple shades, with recessed lighting in the upper and lower edges, which makes the 'Box' look 'suspended'. Inside it one may find a pure white space, where colorful tiles frame the graphic message on the wall.
Along with this, the rest of the medical rooms in the back, are dominated by simple clean lines, which claim the concept of order, organizing and hygiene.
The sense of a typical office's plan view, isolated and strictly detached from the rest of the spaces is not what one may find in the doctor's office. In this space, fabric curtains replace walls or they turn into organic forms, which seem to simulate the plasticity of the human body through curved lines.
The use of natural material, the shades of purple, white and green on the walls combined with symbolic applications (Hands of Buddha, the butterfly as a symbol of rebirth and transformation) all 'exude' a sense of relaxation and tranquility.
Special attention was paid on the light study, where specific lights were selected, hidden light installations ( both vertical and horizontal ) and spotlights were placed as well, which all create a warm and cozy environment.