INTERVISTA
Tsimiski 71, Thessaloniki, Greece
685m2
Design by Minas Kosmidis (Architecture in Consept)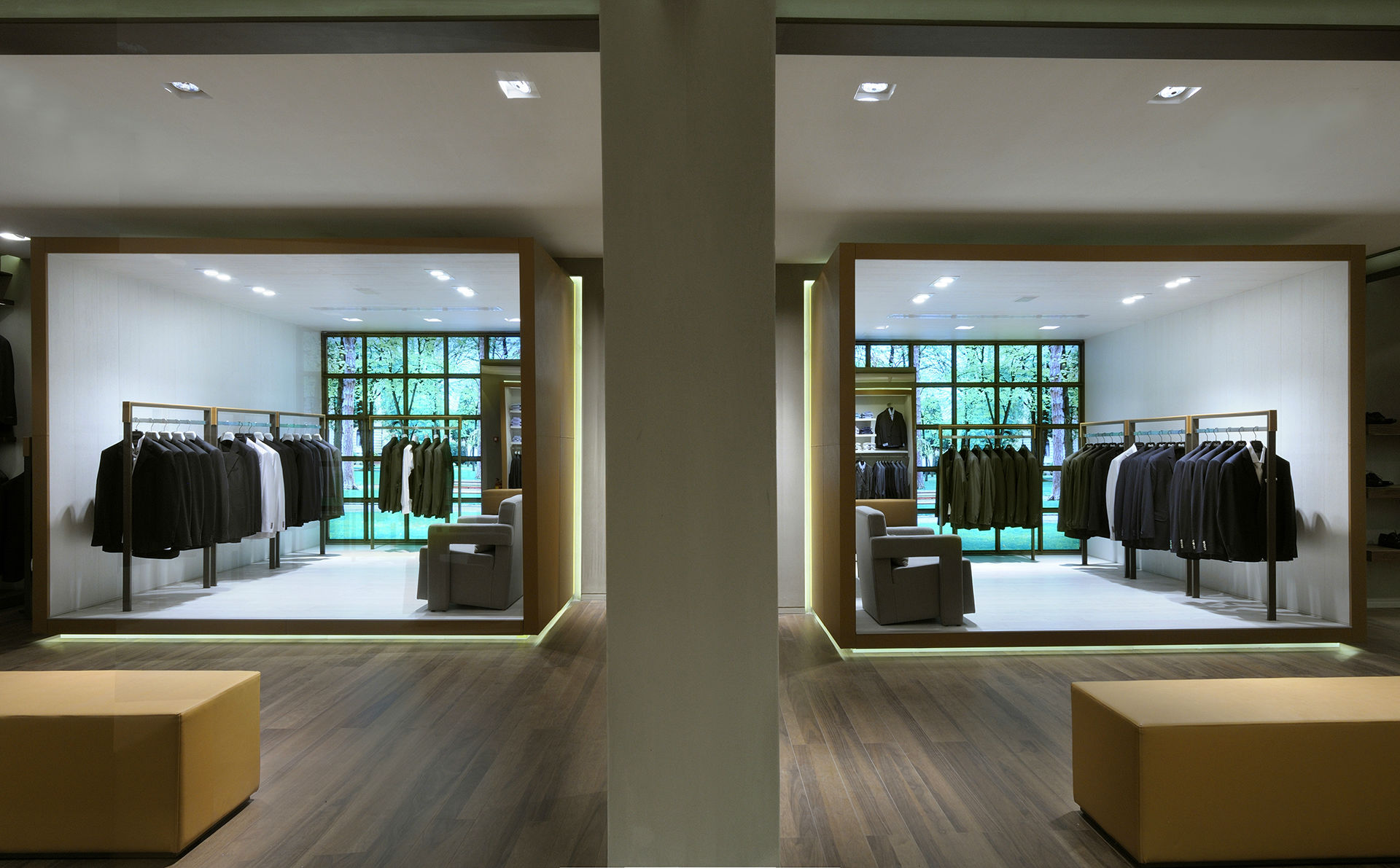 INTERVISTA
Tsimiski 71, Thessaloniki, Greece
685m2
Design by Minas Kosmidis (Architecture in Consept)
INTERVISTA is a clothing store located at the central market of Thessaloniki, in Greece. The store is developed in three floors: at the ground floor we find the men's casual wear, at the basement the formal men's wear and at the upper level the female's wear. The main goal of this project was a store that looks more like a well-reserved loft ready to host clothes, rather than a modern store at the ground floor of a typical Greek block of flats, that ignores the character of the construction.
The plain facade works like a frame bringing out the principles of the interior design as well as the clothes, through its simplicity.
At the 4-to-5-meters-high ground level, the floor is constructed by marble and wood in such a way that those two materials separate the store right on the "golden mean". All the furniture is placed perimetrically in the store, whilst smaller furniture and special design objects stand on each side of a conceivable corridor that leads at the back of the store, the basement and the upper level. Right beneath the upper level there is a box made of glass situated right under the section of two red beams that hold the women's section. The back of the store, is decorated with two metal frames where led strips lighten the digital printed pictures behind the frames, giving the feeling that the store is even bigger.
In the middle of the central corridor we find the marble staircase which leads to the basement. Here, as well as at the ground floor, all the old beams are covered with press bent metal surfaces. Two rows of light glass strips facing each other, and two luminous leather boxes, create section areas, forming space within space, where the costumer can choose the clothes of his preference taking his time.
At the end of the ground floor's conceivable corridor lies the staircase that leads to the women's section. The dominant element here is the box made of glass strips that pops into the ground floor, while a projector shoots different kind of art video on it. The well-balanced total of volumes, form a plastic space where plain lines and natural materials transform the old store into a contemporary space of clothing, giving the customers the feeling of accessible luxury where quality and aesthetics domain in every level.