"AWAY" café-dining bar
66 Eirinis Place, Komotini, Greece
150m2 + 70m2 outside
September 2013 – October 2013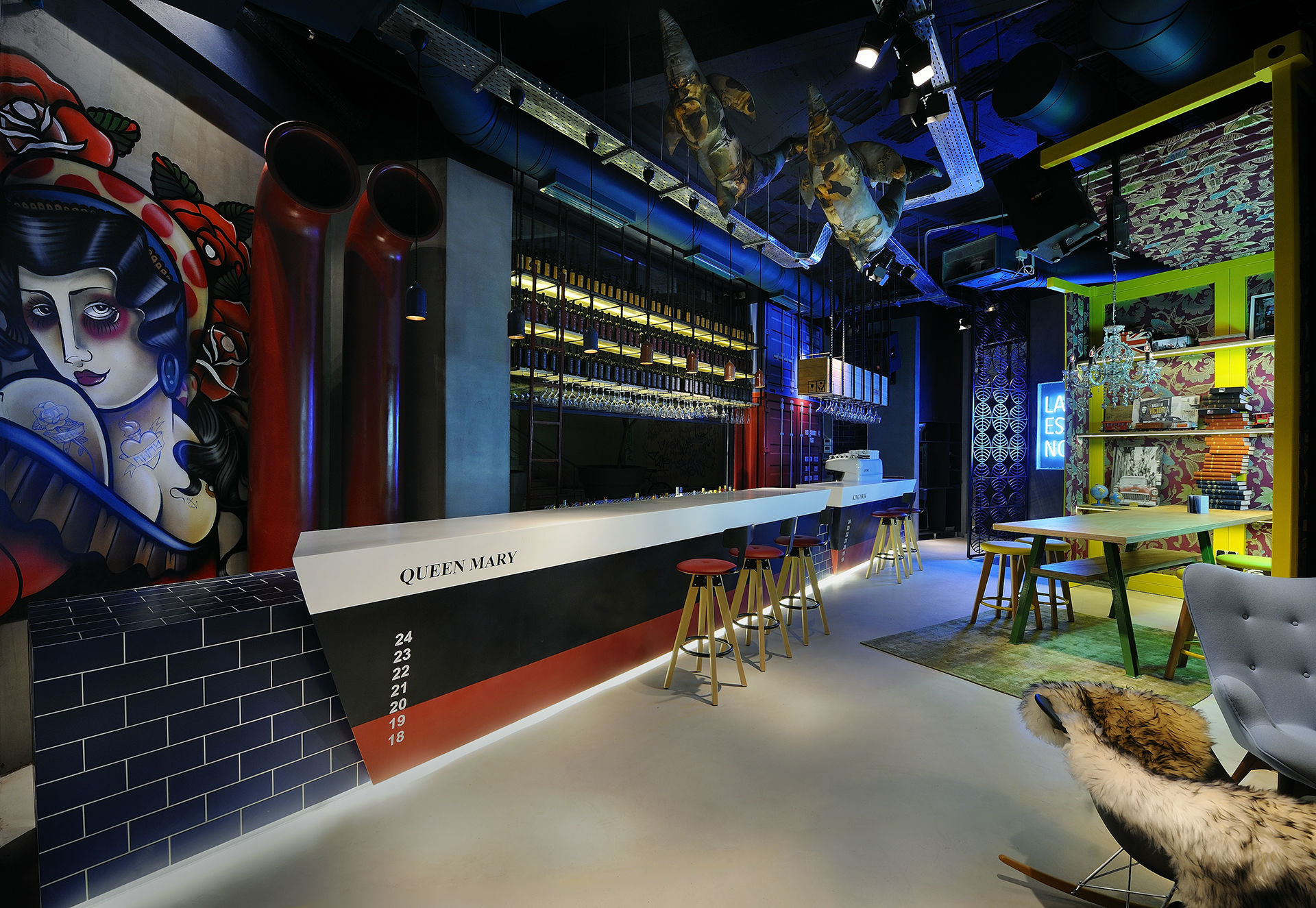 "AWAY" café-dining bar
66 Eirinis Place, Komotini, Greece
150m2 + 70m2 outside
September 2013 – October 2013
The cafe bar "Away" is in the small town of Komotini in northeast Greece. At the main entrance of "Away", the bellboy awaits you having a trolley luggage in order to help you, to choose means and place for your travel. The sign flashing "Away, get away" gets remarkable the long journey of our imagination.
Entering "Away" we encounter the heart, the center, the earth. Multi-level prismatic volumes one inside the other, with reports of vacuum and full of the volume, from copper and iron, as unprocessed rock from the depths of the earth transform into common table.
Over them the two hemispheres of the earth and next to them is the starry vault of the universe, taking the form of lighting. Over the vaults you meet symbolically means of transport.
The side where the bar is developed has the side of the ship, the sea, the container, the stacks and the nocturnal in tattoo on the wall of every sailor.
Dolphins jump out through this surreal setting, with Renaissance forms. A container next to the bar, like those of every port is transformed in a common table point with references to the new baroque and pop art. On the other side and then formed the site of a lounge of PANAM, a small airport at an exotic destination that converses with the opposite side, where surfboards below the word hot component of fuming tag hotel, takes us to the aura of the destination. In the hot side of the surfboard, and then of a second common table point is created . This time , with a background library of souvenirs and books and travel guides.
Directly above the two card postal's stands fixtures where accept cards from all parts of the world are formed. The whole scenery is completed with phrases of eminent people on the surfaces of concrete and visual communication standard column – label in New York.